Small Business Website Design: 7 Tips for a Website That Gets Results
Is your business website delivering the results you expect? Check out our guide to small business website design for a website that converts today.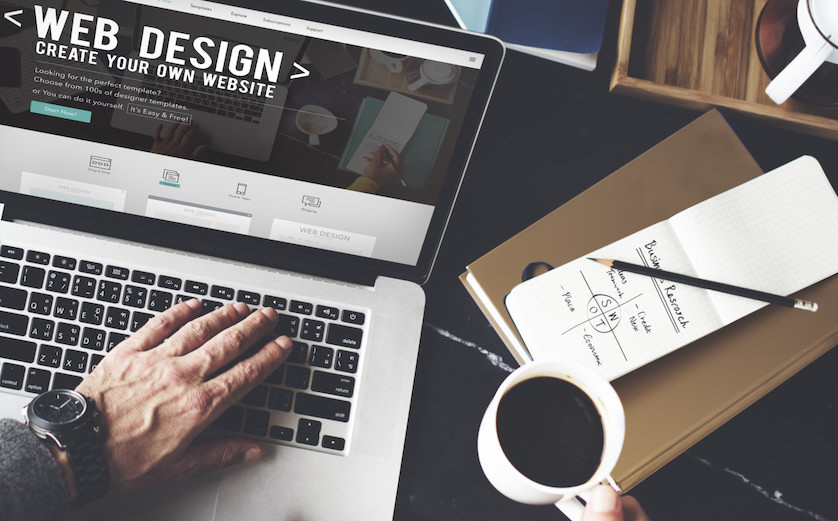 ---
Approximately 71% of small businesses possess a website. A website is a great way for customers to find your business and learn more about your product or solution. Is your small business website design achieving what it is supposed to, meaning, is it increasing profits?
Unfortunately, if a site has a poor design, 38% of people say they will stop interacting with it. Further, almost 40% of people admit they will stop engaging with a website if it is "slow." Many users expect two seconds of loading time.
For a small business owner with either a website that is not converting or a no website at all, this article is for you. We are about to shed some light on the best website design tips to create a killer website that converts.
Now, have we piqued your interest? Great, let's hit the highlights!
Why Is Small Business Website Design Important?
It is not enough for websites to just exist. Just having one in cyberspace alone does not drive performance.
First, you want someone who visits your website to be wowed. Why? It's the very first impression they have of your business and your brand.
If your website is outdated or unorganized, what do they think about your product or solution?
Plus, the best website design improves SEO. How and where your content publishes on your website affects how a search engine will crawl and index your website. It is important that your code is SEO-friendly.
You are also trying to gain a competitive edge over your competitors. The last thing you want is your competition to have a beautiful website design while yours is, well, blah. If they were comparing your companies based on your websites, who do you think they would choose?
Website Design Ideas
Okay, so now you know why it is so crucial. Let's move ahead to how you can accomplish a website that converts with a few fabulous design tips. Here are the key elements that are must-haves.
1. Easy Navigation
The best way to determine easy navigation is to put yourself in your customer's shoes. What do they need to find easily?
For instance, pricing and customer support are both important things that a customer must be able to identify easily. People love sharing what they find on social media, so it is important to have buttons to share your page on Facebook, Twitter, LinkedIn, and more that can be quickly located.
Everything should be self-explanatory and clear. Include broad headings and keep related topics and subtopics together. You want all the elements of your website to flow in a way that makes total sense.
2. Responsive Website Design
Never underestimate the power of the mobile device. In fact, statistics suggest that in 2021, 55% of page views were from mobile phones. It's imperative that you have a responsive website design.
We are on-the-go creatures of habit with a smartphone in hand wherever we are. You are always on the go, and so is your target audience.
When you build a website in a way that is mobile-optimized, it adapts, creating a positive viewing experience. It will resize and adjust menu formats according to the device that is viewing it. Plus, search engines favor websites with a mobile layout available, so it can help improve your SEO results.
3. Fast Loading Times
The time it takes for a website page to load, as soon as a user clicks on it, is its page speed. This helps with how a customer engages with your site, as slow speed frustrates customers. They may leave your website to find a competitor with a faster one.
Loading times affect Google rankings. You can check your website's speed by using Google's PageSpeed Insights. It can provide you with details on how to improve page speed, too.
4. Consistent Branding
Even if the person checking out your website is not a marketing expert, the good design draws people in. It must appear professional and cohesive. Every page must have the same color scheme, typography, and layout.
Create a brief document containing your brand guidelines to use as an overall style guide, both for your website and all other things you must design for your business.
5. Images With a Purpose
Statistics suggest that using a video on a landing page can generate higher conversion by 86%.
Video and images receive more engagement on a website, but they must be placed strategically. It's easy to overdo it, maybe because you have found a lot of images you like. Do not add too many images, no matter how great they look.
There must be a balance between text and images, as this is how to make a small business website design that is visually appealing. Also, the images should support what the text is saying. Images must be relevant and with purpose, not cute or funny and random.
6. Well Written Text
The words on the page are vital. There must be a clear copy with a powerful message that can easily convey a message to your customer that they can understand and digest. It also helps if they are SEO-driven, with keywords that are written fluently and with purpose into the sentences and headlines.
7. Strong Call to Action
This is a critical piece for a website that converts. The CTA, or call to action, will direct the customer to do what it is you want them to do. It could be to complete a purchase, download an informational document, schedule a demo, etc.
You can even have customers subscribe to your newsletter. While it must conform to your branding, the CTA button should be eye-catching and clearly displayed on the website.
Small Business Website Design Ideas
Ready to get your business online fast without the headaches? That's what BEGO does! You get all the small business website design features you need, and you pay one low monthly price.
Never worry about costly updates again. Just send us an email or text. We will update your website for you!
Contact BEGO today to learn more.